Is your company logo in front of your customers?
A colorful mug with your company logo will remind them of you every day!
Buy for your clients, prospects or donors at only pennies a day--you receive daily advertising for a WHOLE year!
We make it easy for you.

Pinnacle Awards has been working with many clients for 15 years or more. They've married, had kids, bought houses and changed jobs. Throughout the years, they have counted on us to deliver the goods so they could do their job and not stress. We'd be honored to do that for you!

Search our vast database of products for items to:
Launch new products - Thank customers - Motivate staff - Improve traffic at trade shows - Increase safety awareness - Impress prospective clients
Mugging Around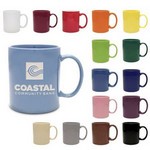 11 Oz. Hampton Collection Ceramic Mug - ...
The Hampton Collection features the most extensive color selection. Precious metal options are not available on Red. 3.75" H
$7.85 - $11.75
Specialty Stores